Kerith & Jaryn / The Glitterati - Dance Central (Haute Blooded)
We're were so very excited when we found out the Glitterati were in Dance Central 3 (only a few days before the game came out). Once we saw their outfits and basked in all the sparkly copperness of it, we looked at each and basically had a, "Where should we start looking for fabric?" conversation. Out of the three, this was probably the most difficult outfit of theirs to put together due to the details on the arm/leg pieces as well as the shoes (and tiny sparkles on those) and the pleats on Jaryn's waistcape (asscape! <3) and the insanely amazing collars they wear. Also, Kerith's one piece shoe + pants combo. Oh man. We tried as hard as we could! We also had a blast wearing them to PAX East and meeting a bunch of the awesome people from Harmonix! We also got to meet the person who designed the outfits - check it all out at our
PAX East
report! :D
We have a blog post detailing what went into these outfits - you can read all about the shiny things
over here
!
---
Kerith & Jaryn / The Glitterati - Dance Central (Crew Outfits)
This is the second Glitterati outfit we finished and you can find a detailed account of how that all happened in a
past blog post
! There were lots of little details on the construction that we won't get into here but you can definitely find there! We originally weren't going to try to make these because we didn't trust our skill level, but after finishing their Street Style outfits and playing the game more -- we couldn't stop/hide/get rid of our love for Kerith & Jaryn and said "Screw it, we'll try to make them anyways!" We were excited with how they came out!
The glowing crew logos on the backs of the vests were something we sort of added in ourselves. In the game, the logos on the back are bigger and thinner than the logo on their crew cards - they're also a silver/dark gray. We had the idea to make them light up because we had been messing with EL lighting for Nate's Matt Miller costume and thought EL panels would look nifty in the backs of the vests, plus the Glitterati are flashy and love showing themselves off, so it seemed somewhat fitting! The panel size we could find in the right color made it so that we had to scale down the logo on the back of the vest so the whole thing would be lit up. It was a small sacrifice but worth it because we were excited that it ended up looking the way it did. :)
This also ended up being one of the costumes we used in our 2012 set of
online holiday cards
!
---
Kerith & Jaryn / The Glitterati - Dance Central (Street Style)
We were sort of iffy on the Glitterati when we first started playing Dance Central 2 because
WHERE WAS OBLIO?
We quickly got over that though and quickly fell in love with them and both of their outfits. We figured their Street Style outfits would be the easiest (hahahahah) so we thought we'd try our hand at them! You can read a detailed blog post about we did just that right
over here
! It was an adventure that included Heather making her first jacket from scratch and us trying to cookie cut and sew craft foam.
For Otakon 2012, Heather made a second version of Jaryn's jacket (which is why they look different in the Katsucon & Otakon photos) - she also had a foot problem so she was in a wheelchair all weekend! We had our first ever photoshoot with a favorite photographer of ours named
Sonja
and she worked around Heather's foot and got some awesome shots - including this one!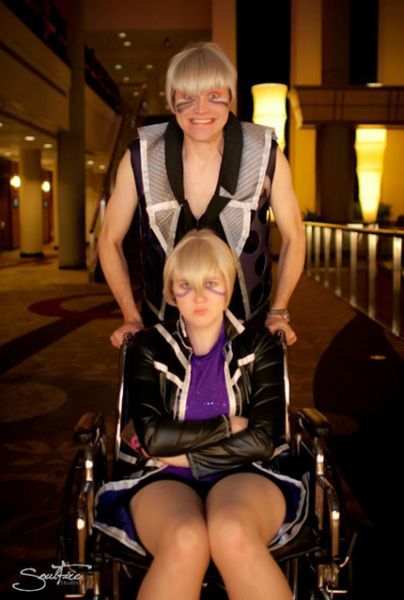 You can see more of the actual shoot where we didn't goof off (although that was most of the time, haha) below!

We've talked about redoing certain parts of these (Nate's vest/collar, Heather's shirt, etc.) in the future and might start that soon, so there may be more of this costume in the coming months!